Get Fit, Have Fun and Dance!
757 Boston Post Rd. Madison, CT 06443
19 S. Main St. Branford, CT 06405
1768 Litchfield​ Tpke Woodbridge, CT 06525
Ballroom Dancin Fools' Blog
S
ay hello to the new and improved look of the Ballroom Dancin Fools website. It's clean, fresh and I disinfected that odor of sweaty dance shoes that was giving the place a bad smell . . .  Also take note and change the links in your bookmarks to
www.BallroomDancinFools.com
, the infamous ".vpweb" is out! Still some minor changes I'm working on but the overall look is complete. (Screenshot just for the archives...)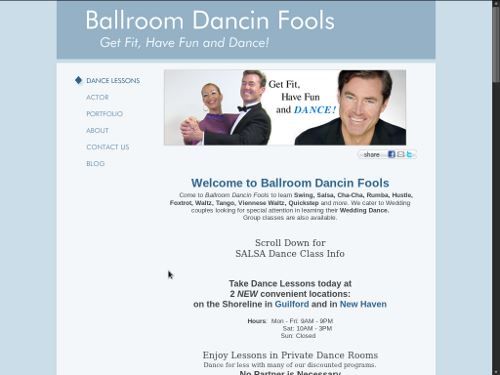 Lastly for you dancers, if you haven't already discovered, a syllabus for each dance is in the process or has been added to the
main page
. So far we have available for download are the Bronze steps for
Salsa
,
Swing
,
Tango
and
Waltz
. Study up, you dancin' fools!
/